Return to Headlines
Annual CTE Extravaganza Raises More than $21,000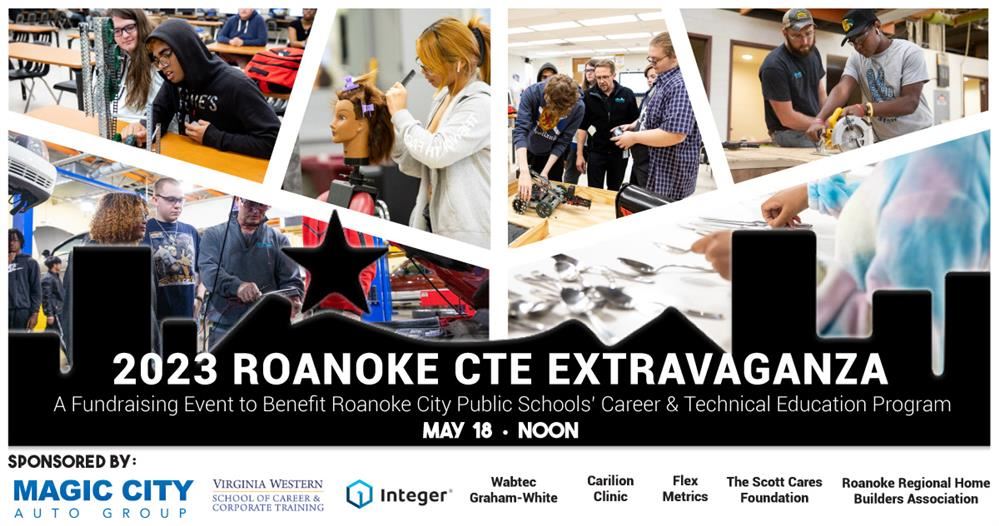 Roanoke City Public Schools' Career & Technical Education (CTE) Foundation raised more than $21,000 during its CTE Extravaganza in May, a record amount for the annual fundraiser. 100% of funds raised will directly benefit students enrolled in CTE through scholarships, equipment, and enhanced programming.
CTE provides students the opportunity to gain employability skills, technical knowledge, and the training they need to succeed in the workforce — today and in the future. Roanoke City Public Schools (RCPS) actively partners with local businesses and industries to design and provide high-quality, dynamic programs to meet the current, emerging, and projected labor market needs of the region.
During the annual Extravaganza, eight high school seniors received a total of $15,000 in scholarships:
Hailey Graham (PH)
Na'Drea Hairston (PH)
Yolanda Joseph (PH)
Hung Lam (WF)
Elisha Shoemaker (WF)
Sydney Werness (PH)
Additionally, Harper Gunn of William Fleming and Elizabeth Kelley of Patrick Henry received the President's Education Award for their academic excellence in their CTE program. They received a certificate, pin, graduation cord, and gift card.
A total of $21,792 was raised through the generosity of 65 donors and a silent auction. Thank you to the following sponsors for making this event a success: Magic City Auto Group, VWCC School of Career and Corporate Training, Integer, Carilion Clinic, Graham-White Manufacturing, P1 Technologies, Flex Metrics, Roanoke Regional Home Builders Association, The Scott Cares Foundation, Roanoke Valley SHRM, Goodwill Industries of the Valleys, OpX Solutions LLC, and CMIT Solutions of Roanoke.
Currently, more than 3,800 students are enrolled in and taking nearly 6,000 CTE classes. RCPS leaders are excited to double the seat capacity in the 2023-2024 school year as additional students begin taking classes this fall, with the new Charles W. Day Technical Education Center (DAYTEC) adjacent to William Fleming High School opening in January 2024. This is in addition to the existing Roanoke Technical Education Center (ROTEC) at Gibboney Hall adjacent to Patrick Henry High School. This expansion will allow RCPS to help meet the increased demand from business and industry and provide students with the opportunity to gain experience in an expanded offering of trade programs in addition to existing programs.
Students interested in taking CTE classes are encouraged to talk with their school counselor. Businesses interested in partnering with RCPS through Work-Based Learning opportunities should contact Jess Truax at jtruax@rcps.info or (540) 853-6303.